The Friends of Naburn would like to remind everyone about the afternoon tea party to celebrate the King's Coronation which is being held in the school playground on Friday 5th May, between 13:30 – 16:00. You can read all about the exciting plans here.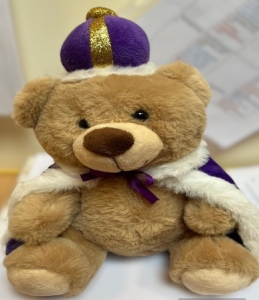 And, as if that's not enough, we also have a 'Guess the Royal Bear's Name' competition for the children. Anyone who would like to enter needs to write down their suggested name for the bear and return it to the office, with 50p. The winner will be announced at the celebration and will win the bear!
We would greatly appreciate any donations of cakes, biscuits or buns (baked or bought) for the event. If you can help with this, please let the office know as soon as possible and send any items in on Friday morning.
We do hope as many of you can come along as possible, it'll be a fantastic afternoon.