Statement of intent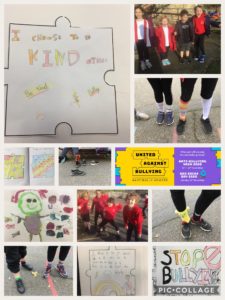 Naburn CE Primary recognises that certain groups in society have historically been disadvantaged because of unlawful discrimination they have faced due to their race, sex, disability, gender reassignment, marriage/civil partnership, religion/belief, sexual orientation or age. See below for a link to our policy, where we have put in place a range of actions to eliminate prejudice, unlawful discrimination and victimisation within the school community and workforce.
One example of this work is our focus each year on Anti-Bullying Week, where we raise awareness of the different forms of bullying and what all members of our school community can do if they feel they are being bullied or if they see any bullying.
Equality Objectives
The school is committed to promoting the welfare and equality of all its staff, pupils and other members of the school community. To achieve this, the school has established the following objectives:
Monitor changes to the curriculum to ensure they result in good outcomes for pupils in all vulnerable groups, and to review the curriculum as needed
Implement effective strategies to support pupils in all vulnerable groups
Improve the quality of support for pupils in all vulnerable groups in the classroom
Continue to explore the use of new technologies to support pupils in all vulnerable groups in accessing their learning.
Click here to read our full Equality Information and Objectives Policy.