Why Naburn?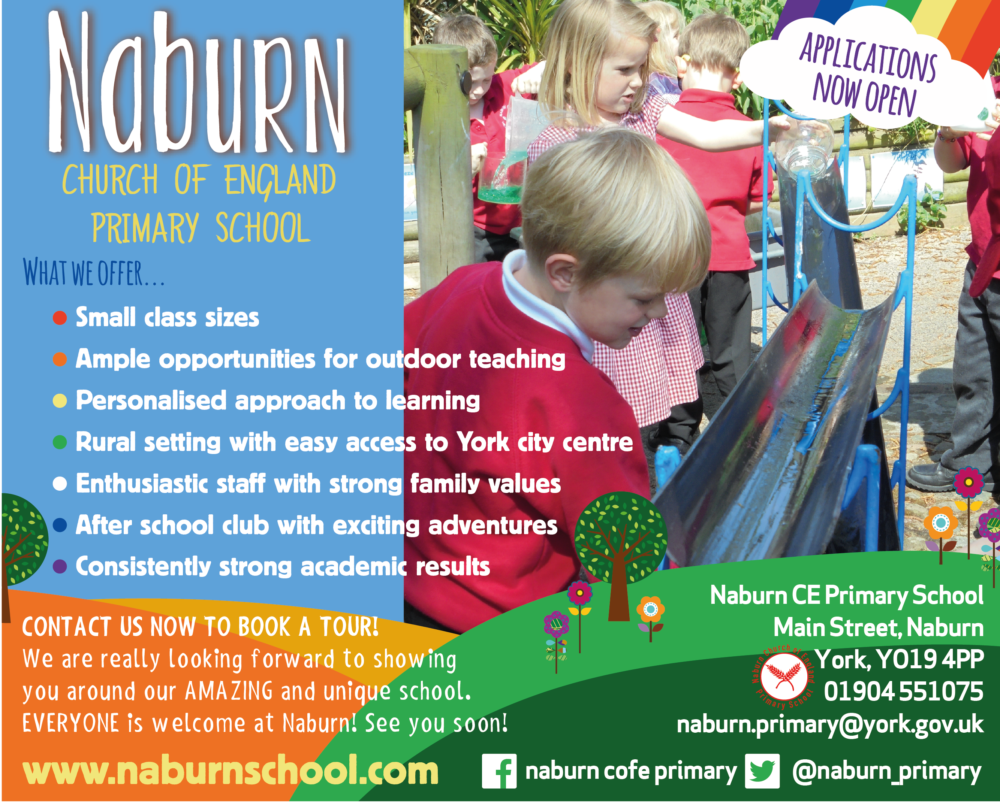 Naburn really is a small school with big ideas!
We are proud of our test results, but also our broad curriculum too, especially our music, PE and art
We have an After School Club, run by school, on site
We have a 'future forest' which we visit at least once a week
We are proud of our lovely old building (built in 1872) and all the history it holds
We have small classes, so our teachers know the children really well. In fact we are just like one big, happy family!
Situated in the heart of the community, we strongly value our links with the local Church and the wider community
Our positive school vision, values and aims are at the heart of all we do
We currently have a small number of places available in some year groups, including Reception. If you would like find out more about our fantastic school please contact us.
Will your child start reception in September 2022?
You should apply for your child to start primary or infant school in the school year your child turns 4 so for entry into Reception in the September 2022 school year, children will have been born between 1st September 2017 and 31st August 2018. Please do get in touch if you would like to have a tour and find out more about us!
How to apply
Admissions to Naburn Primary School are dealt with by the admissions team at the City of York, as the admissions authority for our school.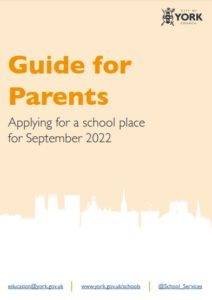 If you have any queries about the admissions policy or process you can call 01904 551554 or email education@york.gov.uk. Further details are also available on their website.
Please read the Guide for Parents when applying for a school place, as it contains key information on school admissions. Please note that we anticipate an updated 2020 Guide for Parents will be published by City of York council soon. You can also find the Guide to School Catchment Areas online. We also advise you to keep checking on the City of York Council Admissions site to keep updated with key dates throughout the year.
If you can't apply online you can request a paper Primary Application Form by calling 01904 551 554. Forms are also distributed to primary schools and nurseries in the York area.
Key Dates for the 2020 Primary Admissions Process
12th September 2021 – opening date for applications
15th January 2022 – Deadline for applications
16th April 2022 or the next working day – National Offer Day
21st May 2022 – Appeal forms to be returned
June-July 2022 – Admission appeals heard
September 2022 – Applications for the 2023 entry into Reception expected to open
Admissions Consultation
In line with the School Admissions Code 2021, City of York Councils holds a coordinated admission consultation on behalf of schools within York and the School Admission Authorities. The consultation was held between Monday 4th October to Sunday 14th November. The consultation is now closed.
The draft admissions policies, published admission numbers and related documents for schools in the City of York area advise how admissions applications and decisions will be made for the 2023 to 2024 school year.
Some draft documents will apply to more than one school where the policy applies to Community and Voluntary Controlled schools and schools within a Multi Academy Trust. The schools to which the policy applies are listed in the policy.
Feedback provided, through the admission consultation survey, regarding schools where City of York Council are the Admission Authority, including Naburn CE Primary School, will be considered by City of York Council.
Following the consultation, each admission authority will formally set ('determine') their admission arrangements for admission in 2023-24 by 28th February 2022. Determined policies will be on the City of York Council website by 15th March 2022 after which objections can be raised.
All documents can be found in their draft (pre-determined) form at https://www.york.gov.uk/AdmissionsConsultation. If you require a paper copy of the document or survey you can request this from education@york.gov.uk or 01904 551554