Intent
At Naburn CE Primary School we aim to develop a love of learning through our EYFS provision. We aim to ensure all children build on prior learning in a caring, nurturing environment which allows them to reach their full potential. Children at Naburn learn by exploring, experiencing, and working together to develop their skills and knowledge preparing them for their next steps in their learning. We want our children to be independent, creative, resilient, and confident learners who are tolerant and treat others with respect and kindness.
Our school is set in a rural community, and this is reflected within our curriculum. We take advantage of the opportunities our outside areas offer. We want our children to be fully involved in school, family and community life. We encourage our children to see themselves as a valued part of these and encourage them to begin contributing.
Implementation
At Naburn CE Primary School we have a mixed EYFS and Key Stage 1 class. We help our children learn by provide stimulating activities in a caring and nurturing environment. Our curriculum provides opportunities to develop skills and knowledge from all areas of the Early Years Framework. Our accessible indoor/outdoor environment provides opportunity for child-initiated learning alongside focused adult-led learning opportunities. This flexible provision enables our children to learn through play, led by their own interests.
The principles that guide our curriculum are taken from the Early Years Foundation Stage (EYFS) Framework. They are grouped into 4 themes:
A unique child
Positive relationships
Enabling Environments
Learning and Development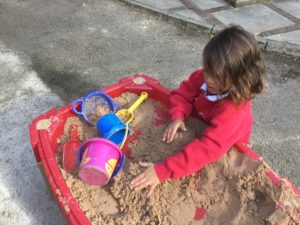 The EYFS Curriculum consists of the seven areas of Learning and Development. There are three prime and four specific areas. The three prime areas of learning are:
Personal, Social and Emotional Development
Communication and Language
Physical Development
The four specific areas of learning are:
Mathematics
Literacy
Understanding of the World
Expressive Arts and Design
Impact
With a thorough knowledge of our curriculum, the Early Learning goals and the children in our EYFS setting, our staff assess the children through discussion and questioning, observation, and direct teaching sessions. A record of their learning is made, noting their progress and planning for the next steps in their learning. Each child in Reception has a learning journal which records their achievements. Our provision and delivery of our curriculum is regularly monitored, reviewed and revisited to ensure our aims are met and the children's knowledge and learning is secure.
Links to Further Information
Early Years Foundation Stage Framework on the GOV.uk website.
"Development Matters – Non-statutory curriculum guidance for the early years foundation stage"
EYFS Scheme of Learning on White Rose Maths