To all our families,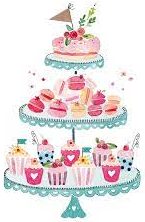 We're looking forward to seeing as many of you as possible at next Thursday's Tea Party in the Playground. Everyone in the village is also invited, but it's hard to know how many will be able to pop in.
It would be lovely if we could offer nice home baked cakes. If anyone is able to make a cake, cupcakes or scones it would be massively appreciated. If you are planning on doing this please let us know so have an idea of how many we might have. A quick reply to the office would be great if you are able to offer something.
Many thanks,Friends of Naburn School