Our Christian Vision is to build an environment of support and growth rooted in core values of perseverance, hope, community and compassion.
With God's help we work together, to try our best to take root in good soil and grow.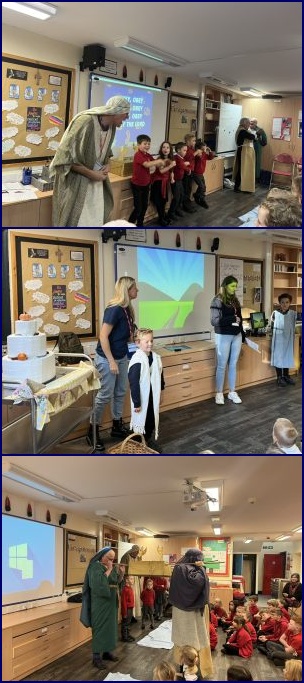 Daily acts of Collective Worship are important forums for sustaining and developing our Christian ethos and embedding our core values in all we do. These acts of worship generally follow weekly themes: these vary, but may include seasonal themes or be more topical, for example assemblies that focus on the school's core values of perseverance, hope, community and compassion.
Ministers from the Rivers Partnership, the group of Benefices which includes Naburn and Stillingfleet parishes, visit the school regularly to lead whole school Collective Worship linked to our Christian values.
The team from 'Open the Book' lead worship fortnightly and follow the Bible Society's rolling programme, giving our children a wonderful opportunity to engage with key Bible stories.
We also welcome regular visitors from YoYo, York Schools and Youth Trust, who lead class lessons, assemblies and prayer spaces.
A Statement on Worship
Collective Acts of Worship take place on a daily basis.
As a Church School, our acts of worship are Christian in nature, though special occasions and festivals of other cultures and religions are also recognised and valued. It is a parent's right to request that their child be excused from acts of collective worship.
Parents are always welcome to join us in Celebration Worship every fortnight, where we celebrate the successes of our week and present Teachers' Awards and, together with the local community, are also invited to church services at Harvest and Christingle which the children lead, helping to develop their confidence in communicating with larger audiences.
You can see the current plans for assemblies and Collective Worship here.
We have House Captains, elected by the children, who help to lead and plan Worship.
Naburn Church of England Primary School is a small, tightly knit community, where adults and pupils work joyfully together inspired by the Christian values of compassion, trust and perseverance.

SIAMS Report May 2017