School Council News
School Council consists of a small group of children, voted in by their peers. They work hard to make our school the best it can be.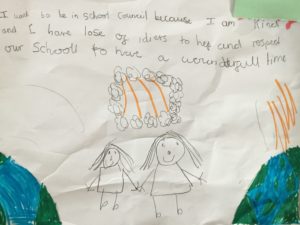 In the past, the School Council has raised funds for a defibrillator in the village. The children held cake stalls, collected money in buckets and generally raised awareness of this cause. Waitrose even chose us to be a Charity of the Month, so raising more money. They were then able to complete this project, with the help of a very generous grant from Wheldrake Ward Committee. The School Council presented a cheque to the Village Council at our Songs around the Christmas Tree event. The defib. is in the old telephone box just outside school. We had hoped we would never have to use it, but it has helped to save a life and we are glad we could help to make our village a safer place.
School Council also chose a new scooter pod to park our scooters in, after winning the CYC 'Scoot to School' Competition in Walk to School Week.
They decided on a red and yellow pod because that will be bright and cheerful, just like our school.
Previously, the children worked closely with Christine Packer from CYC to improve parking and traffic around school. For example, leading an assembly to raise awareness around school and giving booklets to every family to remind then about safe travelling to and from school.
The children in School Council have also helped one of our Governors to conduct a children's questionnaire. In this, we found out that some children felt a bit lonely sometimes at break times, so School Council organised a 'Buddy Bench' and a rota of older children to support anyone feeling sad. The bench is not used very much at all, but it is there if anyone needs it.