Why Naburn?
Naburn really is a small school with big ideas!
We are proud of our test results, but also our broad curriculum too
We have an After School Club, run by school, on site
We are proud of our lovely old building (built in 1872) and all the history it holds
We have small classes, so our teachers know the children really well. In fact we are just like one big, happy family!
Situated in the heart of the community, we strongly value our links with the local Church and the wider community
Our positive school vision, values and aims are at the heart of all we do
We currently have a small number of places available in some year groups, including Reception. If you would like find out more or if you would like to visit our fantastic school please contact us. You can email naburn.primary@york.gov.uk or ring us on 01904 551075.
Will your child start reception in September 2020?
You should apply for your child to start primary or infant school in the school year your child turns 4 so for entry in the September 2019 school year, children will have been born between 1st September 2015 and 31st August 2016. Visits to our school by prospective parents are warmly welcomed and we have started showing people around for next September so do get in touch if you would to come and see us!
How to apply
Admissions to Naburn Primary School are dealt with by the admissions team at the City of York, as the admissions authority for our school.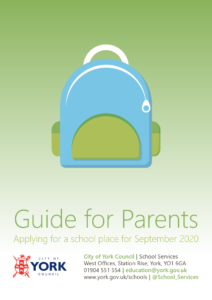 If you have any queries about the admissions policy or process you can call 01904 551554 or email education@york.gov.uk. Further details are also available on their website.
Please read the Guide for Parents when applying for a school place, as it contains key information on school admissions. Please note that we anticipate an updated 2020 Guide for Parents will be published by City of York council soon. You can also find the Guide to School Catchment Areas online. We also advise you to keep checking on the City of York Council Admissions site to keep updated with key dates throughout the year.
If you can't apply online you can request a paper Primary Application Form by calling 01904 551 554. Forms are also distributed to primary schools and nurseries in the York area.
Key Dates for the 2020 Admissions Process
Now! – Visits for prospective parents can be arranged with the school
12th September 2019 – Applications open for September 2020 entry to Reception
11th November 2019 – Open day in school for the parents and carers of children starting Reception in September 2020
15th January 2020 – Deadline for applications
16th April 2020 – National Offer Day
20th May 2020 – Appeal forms to be returned
June-July 2020 – Admission appeals heard
September 2020 – Admissions to Reception class for September 2021 are expected to open